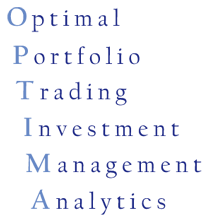 About Us
TG OPTIMA's high performance, strategic investment optimization technology solutions are the product of our management team's rich, pragmatic expertise in quantitative investment management strategies and financial markets technology development experience.
Management Team
Chao-Yang "Tony" Gau, President
Tony has over twenty years of experience in the areas of optimization technology and quantitative modeling. Before founding TG OPTIMA, he was the Vice President of Citigroup Global Markets where he worked on portfolio trading, pre-trade transaction cost and risk analysis, portfolio construction, multi-day execution strategies, Global Transition Management, and quantitative modeling, and held Series 7, 63, 55 and 3 securities licenses.

Prior to joining Citigroup, Tony was the Chief Optimization Developer at LINDO SYSTEMS, a premier optimization software provider where he rolled out the first commercial global optimization solver based on his PhD thesis.

Tony received his PhD in Chemical Engineering from University of Notre Dame, where his thesis research is focused on process system engineering and optimization algorithms.
Fang-Ju "Jessica" Lin, Vice President
Jessica manages the company's finance, sales and operations. She has two decade of experience in operations and finance in the financial industry. Prior to joining TG OPTIMA, she held several accounting and finance roles at UBS(IB) and Northern Trust Company.
Jessica holds an MBA in Finance from University of Notre Dame.